In April we talked about the difference between quartz and quartzite countertops so you may recall that quartz and quantize are not the same. Quartzite is a naturally occurring stone and quartz is man-made. Today we'll look at quartzite countertops vs granite. Keep in mind because these are both naturally occurring stone this is more of a fair comparison.
Durability
For most homeowners, durability means how resistant to damage, like scratching, chipping and staining their natural stone countertops are.  Although quartzite is harder than granite, the difference is not significant and we would not recommend cutting directly on either surface. Because quartzite is slightly harder it is also less likely to stain or etch, however, when granite is properly sealed, the difference becomes virtually imperceptible.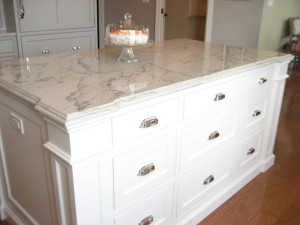 Color
Both granite and quartzite countertops come in a variety of colors and patterns. If your quartzite was pure it would be solid in color and somewhere between white and grey; but rarely is that ever seen.  Most quartzite has some pink, orange or red tones or specs because of the iron that is often found in the stone. Granite has a much broader color pallet and can be found in a rainbow of hues depending upon where it is mined.  Quartzite is often described as having some "sparkle" with the varied hues.
Cost
Both granite and quartzite have a wide price range; granite, however, tends to start off at a lower price point. Again, there are many different types of granite imported from a wide range of countries which influences the price so some granite can be more expensive than some quartzite. Quartzite is less common so it tends to start at a slightly higher price per square foot.
When you consider quartzite countertops vs granite countertops, talk to Modlich Stoneworks, your natural stone fabricator in Columbus, and ask for their guidance based on your application, budget and current décor as they can help guide you in your decision. Feel free to give us a call to set an appointment at 614-859-6596 or just stop by our showroom at 2255 Harper Road.