Our blogs are often inspired by real life stories from our clients; both future and past. Recently one of our past clients had a small kitchen fire that resulted in an insurance claim. Fortunately everyone is just fine and in a few weeks their kitchen will be back to normal, however, the weeks in-between have been quite stressful due to the insurance company's opinion of their granite countertops.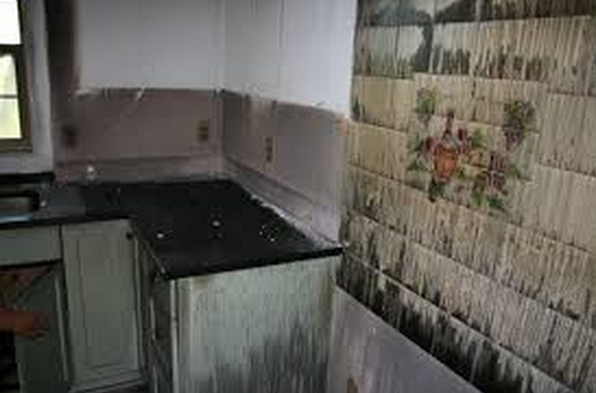 The insurance company felt that the granite was not damaged in the fire. Their opinion was that granite is a stone and there was no visible damage to it so it can be reused. The homeowner was concerned with their denying the replacement of the countertop and contacted us for our take on the situation.
Can the Countertop be Reused?
Technically yes, it can. However, there are many aspects to consider. Remember, no matter what type of natural stone countertops you have in your home, it is cut custom for those cabinets and the wall that it will set against. When cabinets are replaced or walls are torn out and repaired, sometimes things don't match up exactly as they did before. This could leave gaps between the back of the countertop and the wall. One solution may be to cover the area with a backsplash if the area isn't too large. Additionally the granite countertops have to be removed, stored and replaced during the kitchen rehab. Although the insurance company is right, granite is a stone, nonetheless it can be damaged. Uninstalling, storing and reinstalling poses risk of damage and even breakage. If only one portion of your kitchen was damaged and only one portion of countertop is being removed and it is damaged you may have trouble finding a suitable match depending on the granite style and pattern you originally selected for your kitchen countertops.
What Can You Do?
If you aren't happy with the adjustor's opinion, make sure to contact your Columbus natural stone fabricator for their professional opinion of your individual situation. An adjustor is trained by people and books for the many varied aspects of any insurance claim, though they're not selected for their understanding of granite countertops. At Modlich Stoneworks we have decades of experience with granite countertops and can fully and professionally assess the damage and the likelihood that you will be able to reuse the piece in question.
Sometimes accidents happen and insurance companies need to be contacted. If your kitchen is damaged as a result of a fire don't let the insurance company have the final say until you've contact your Columbus natural stone fabricator to discuss the possibility of reusing your granite countertops in your remodeled kitchen. The team at Modlich Stoneworks is happy to come to your home to evaluate your situation, just give us a call at 614-859-6596.