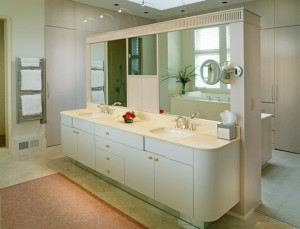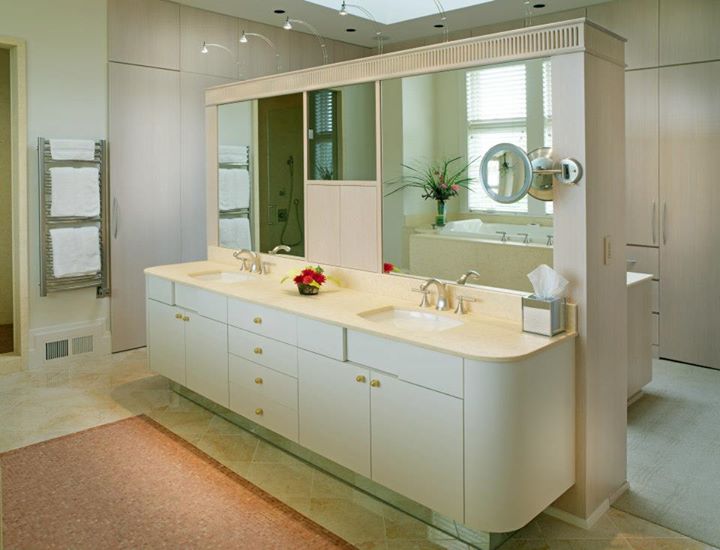 Whether you're just refreshing your bathroom or doing a complete remodel, you'll probably plan on replacing your bathroom countertops. More people are turning to natural stone countertops in just about every room of their home and they are a great choice for the bathroom too. You have many choices when it comes to natural stone and some are better suited for the bathroom's humid and damp environment than others.
Granite countertops are one of the most popular choices among natural stone countertops for the bathroom. Some of the reasons are that granite comes in many color options to fit in with your existing or new cabinetry. When properly sealed it is virtually stain resistant which is good when makeup and hair color are used. Granite is also very heat resistant (for those homes where curling and flat irons are left on the counter) and comes in many affordable options.
A slightly less popular choice is marble. We've shared in previous blogs many pros and cons of marble but when choosing marble bathroom countertops, keep in mind the porous nature and that cosmetics often used in bathrooms may stain or even etch depending upon the marble's color and finish. Marble is elegant and if you're looking for a high end bathroom countertop, it is an excellent choice, although a bit more expensive than most granite.
Soapstone has recently grown in popularity for many natural stone countertops but less so in the bathroom. It does offer many advantages as a bathroom countertop choice. Soapstone doesn't need to be sealed and it's not affected by acids or alkalis found in many chemicals used there. If it happens to be scratched, scratches can be sanded out because there is no sealant on it. Like granite, it is very heat tolerant so hot irons won't damage it either.
Modlich Stoneworks countertops for bathrooms can also be made from quartz because it is naturally resistant to bacteria, moisture and staining. One drawback is that quartz can be expensive and shows fingerprints easily.
Last among the natural stone countertops offered by Modlich Stoneworks is limestone. As a natural stone countertop choice, limestone comes in many color options but most often has a matte finish unlike granite and quartz. Because limestone is very absorbent, this is not generally the best choice for bathroom countertops.
No matter the size or scope of your bathroom remodeling project, let the Modlich Stoneworks countertop team help you. Simply give us a call at 614-859-6596 or stop by our showroom at 2255 Harper Road