About Modlich Stoneworks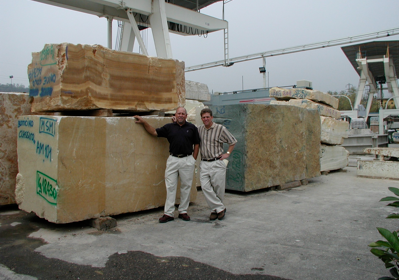 Family owned and operated since 1936, Modlich Stoneworks has over 75 years of experience in the natural stone industry. Modlich Stoneworks offers a 7,000 sq. ft. indoor showroom with multiple samples of Natural Stone and Quartz products, edge profiles, and applications. Some of our competitors believe that having a showroom is a waste of money and just let their customers wander around a warehouse trying to envision if a particular piece of stone will fit their specific need. We know that you are investing in your home and we believe that giving you the opportunity to look at many different options in lighting that mimics that in your home is the best way for you to make a decision that you will be happy with for years to come.
Why Choose Us?
Our team. Seems like a simple answer but our team members are the reason why we've been so successful for so long. We know our products and we know the best application so our team can help you make the best decision for your application whether it is for your home or business. When you are happy with the finished product, you tell your friends and neighbors. Our goal is to always have a satisfied customer.
Our Offerings
We are proud to offer some of the most beautiful patterns of granite, quartz, marble, limestone and soapstone available in the world. Not only do we offer the widest variety of natural stone products in Columbus but we also offer a wide variety of finishing options. Modlich Stoneworks has the ability to offer finishes including polished, honed, and leathered/brushed to fit your specific style or need. Not sure what those finishes look like? We can let you see examples in our showroom, just ask one of our team members. We also will show you examples of the various edges that we can custom finish your countertops with.
Contact Modlich Stoneworks to learn more about us and all we can do to help bring the quality natural stone to your kitchen, bath, office or more!