…or How to Rock, Italian-Style!
Italians have been using natural stone for everything from sculptures to buildings for thousands of years because of its availability, beauty and durability. In a previous blog we talked about carrara marble that many of our customers often request, however, there are many other natural stones that come from Italy.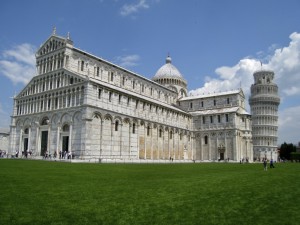 Another common type of marble is calcatta marble. It's very similar to carrara in that it's white and grey, however, calcatta marble has more dramatic veining and the white is often whiter than carrara. Although both marbles are grey and white, like any natural stone product, each varies in pattern and color. Both do come from the Carrara region in Italy which is likely the reason for their similarities. Sienna marble is also a common marble pattern but from the Tuscany region. With its yellow and brown hues, it is not confused with the two white marbles. Its veining can be bold or subtle and runs from brown to rust to nearly black depending upon the slab. Another area that supplies a great deal of natural stone in Italy is around Sicily. The walls of many Italian cathedrals (including the Vatican) use Italian marble from this area.
Other Natural Stone from Italy
Although Italy is best known for its marble, you can find many types of natural stone quarries in the country. In 1669 Mount Etna erupted and subsequently lead to the mining of basalt, also known as lava stone, in Sicily. This stone is used throughout the region for many outdoor applications including walkways and curbing. Ragusa limestone, also from Sicily, is used for many outdoor applications like building columns, memorials and staircases. The entire city of Ragusa is built on a limestone hill!
Italy does have some granite quarries; however, about 90% of granite comes from Brazil which we'll cover in our next blog. Most Italian granite has a grey overtone with black, tan and pale peach tones. Many homes you see today use Grigio Sardo Granite for their kitchen countertops or Rosa Beta Granite for bathroom vanities as both are very common types of granite.
We will continue to carry carrara marble from Italy for your Columbus kitchen countertops but if you are looking for another Italian stone product, ask us and we'll let you know if we have it or can get it for your home. The team at Modlich Stoneworks is always happy to work to bring your vision to reality. Contact us today at (614) 859-6596 to schedule an appointment or stop by our showroom at 2255 Harper Rd. Columbus, Ohio.