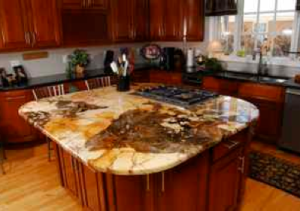 If it's time to update your kitchen layout and add marble or granite countertops in Columbus Ohio, it's best to work with a professional designer or contractor as you plan the new layout. Here are three things to consider when you start working with a designer or contractor on your kitchen remodeling project.
Avoid Trendy Features
For many years a microwave over the stove was a popular trend as was a desk in the kitchen. In most new homes neither of these are design elements simply because we live differently today; kids need to reach the microwave as they use it for everything from snacks to reheating meals. Consider one of the new drawer style microwaves to maximize counter space and allow easy access. If you have a desk in your kitchen, take a look at it, do you use it as a desk or is it a place that clutter accumulates? Would that space be utilized with a floor to ceiling cabinet?
Inventory Your Small Appliances
Which ones do you use on a regular basis? Do you have space on the countertop for them? When you use a mixer, blender, or food processor do you have counter space in the right place with a convenient outlet? Consider adding outlets if you are going to be opening the walls. It's always better to have an outlet close to the work surface you're using than have to move to a new one just for an outlet. Also think about how you use your personal electronics. If your recipes are on one of your devices, you might want to be able to charge them close by.
Look At Your Lights
Have you ever felt like your kitchen was too dark? Now may be the time to rearrange the lighting in your kitchen, possibly even add a window. When you look at your workspaces, make sure that you can work without being in the shadows. If the light is only behind you, your work surface will be dark. Also keep in mind if you choose dark toned granite countertops, it won't reflect back as much light so you may need to add additional or brighter fixtures.
Of course we hope you contact Modich Stoneworks for your marble or granite countertops in Columbus Ohio once you have worked out the design details with your kitchen remodeling company or home improvement contractor. Our team offers decades of experience working with kitchen remodeling contractors and designers and we're happy to work with yours. Please call to set an appointment 614-859-6596 or stop by our showroom at 2255 Harper Road, Monday through Friday from 8 – 4:30 or Saturday from 9 – noon.