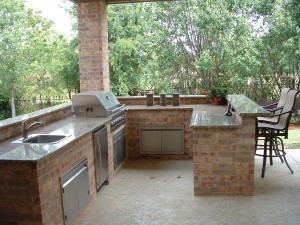 As the flowers begin to bloom and the temperatures feel more like spring, many people head outside for a backyard cookout. If you are thinking this is the year to build your outdoor kitchen, here is a step by step guide on planning your space.
1. Decide the elements you want in your outdoor kitchen. Some people simply want a grill and a space to set a plate on while others want a full service kitchen for entertaining. Some elements in addition to the grill to think about are an outdoor refrigerator, serving and prep space, a sink, a cooler tub for drinks on ice, storage and lighting.
2. Once you've decided on what you want to incorporate, it's time for research. Visit your local home improvement store or search online for what you are wanting in your space. Be sure to take note of not only the size of the items but also if they require any special clearance (for example some refrigerators require a couple of inches around for venting).
3. Now that you have measurements, sketch out a plan. Get input from anyone else who will be using the space. Do they think that there is enough countertop for prep and serving? Have you taken into consideration if one person is setting up to serve and another is actively cooking, will both have enough room to work efficiently?
4. Head outside and see if your sketch works. If you are adding your outdoor kitchen to an already existing slab, find your kid's chalk and start drawing. It's easy to "erase" and start over and it will help give you an idea of how much of the area will remain after your project. If you are going to add either a concrete slab or pavers, use a can of chalk spray paint on your grass. Again, it will wash away and is eco-friendly.
5. Consider the other elements you need and get quotes. What are you going to build your outdoor kitchen from? Some people choose brick while others choose natural stone and others build molds and pour concrete. Don't forget the countertop. You need something to bring everything together. One of the best options is a granite countertop, it is long lasting, durable and the weather doesn't affect it very much. Your Columbus natural stone supplier can provide you with a quote and install your granite countertop when you have the base constructed. If you're going to have a natural gas grill, make sure to get a quote on installation of the natural gas line.
Now that all the planning is completed, it's time to get started. Whether you build it yourself or hire someone to do the work, Modlich Stoneworks can either work with your builder or come to your home measure and provide the quote and install the natural stone countertop when you're ready. Just reach out to us and we'll meet you at your home, work with your builder, or invite you to our office and provide you with a quote and estimate of when we can install your outdoor kitchen granite countertop.