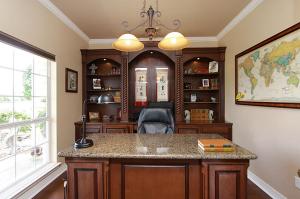 Shortly after completing an installation of a granite desk top and conference room table in a Columbus business, we were contacted by an employee at the company asking if we could replace their desk top in their home office with a natural stone. After some conversation about his current home office desk top, we realized that his built in was in need of a surface replacement and one of our staff members went out to measure and in just a about a week, he's going to give himself the gift of a new granite desk top in his home office.
Why Choose a Natural Stone Desk top?
More people are working in their own home office and built in desks are becoming more and more popular. Often the carpenter who designs and installs the desk and work area simply puts a piece of wood as the desk top. Although the wood can look very nice, it is not as durable or long lasting as granite desk tops or other natural stone surfaces.
Natural Stone such as granite or quartz provide many advantages such as:
Scratch and Dent Resistant – if you write and don't protect a wood surface with a blotter, you are more likely to see dents and scratches than with natural stone.
Easy to Clean – Granite and quartz are both surfaces that are easy to clean with either specialized cleaners or plain water. When drinks or food are spilled on wood surfaces, it can harbor bacteria even if you wipe it down quickly while scrubbing can dull or scratch the finish.
Long Lasting – With proper sealing, stone desk tops can last far longer than wood. Heat from laptops won't affect the finish or look of a natural stone desk top.
Versatile Look – Wood is usually either painted or stained leaving the color the main focus. Natural stone comes in a variety of colors and every slab's pattern is unique so you can pick the look you want for your home office with the beautiful designs that stone offers.
If you are looking to refinish your home office's desk or are installing a new built in workstation in your home, consider natural stone for the desk's surface. We are always happy to help you select the right desk top surface for your home or office in Columbus, Cincinnati or Dayton. Just give us a call or fill out our estimate request form for a consultation.