Marble has been used throughout the world for many thousands of years in so many applications. The beauty and flow of the veining, especially in Calcutta Marble, is especially dramatic in many places in the home. Recently we've had many homeowners ask about using marble for their bathroom remodeling project in Columbus so we've decided to lay out the pros and cons of a marble bathroom.
Yes, it's true that many of the roman baths were constructed of marble. During the Roman Empire marble was plentiful and the baths were not built with the same purpose as today's bathrooms. Men used the baths for soaking and they weren't cleaned so harsh chemicals weren't in contact with the marble. Today's bathrooms are used not only for bathing but women often apply makeup, color their hair and kids play in the bathtub. Because of these multiple uses, marble bathrooms are subject to many more chemicals than the baths in Roman times. Marble is a soft stone and is more prone to staining and etching than some of the other, more durable, natural stones.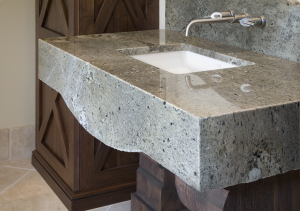 If you choose marble bathroom countertops you need to take care not to allow things like hair dye and liquid make up to come in contact with the countertop as they may stain. If you use a dye or similar product, be sure to cover the marble countertop before using it. Also take care when using acidic based products for cleaning as they may etch the marble with prolonged contact.
When you're considering marble tile or marble slabs for your shower floor know that some discoloring may occur if your particular choice has iron in it. Iron will rust with prolonged exposure to water like you may find in a shower. If you are set on using marble for your shower floor, you may want to test it by soaking the tile for a few days or setting a wet sponge or towel on the slab piece to see how the water may or may not discolor your particular selection.
Marble bathroom countertops are beautiful and can last for many years with proper care and sealing. Just know before you choose this natural stone that there are things you need to be aware of before your installation. Modlich Stoneworks offers a variety of marble slabs for your bathroom remodeling project in Columbus.  Just call (614) 859-6596 today to schedule an appointment or stop in our Columbus showroom at 2255 Harper Road. Either way, we look forward to hearing from you!