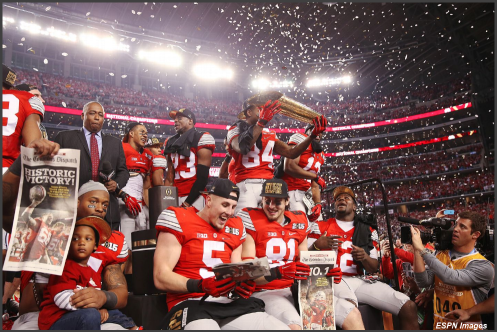 Like most families based in Columbus, Ohio, living in the shadow of the famed Ohio Stadium, better known as "The Horseshoe", we were certainly ecstatic with the results of the National Championship game last Monday night. And it's always fun to share a victory with some of our neighborhood friends, so it's no surprise that our small gathering was planned to take place in our medium-sized living room in front of the biggest TV screen we had for this inaugural event. As is common when a game goes on, the lead becomes greater and the hour get later, many in our small group end up in the kitchen…a little further away from the whoops and hollers. As my wife and I cleaned up after the game, perhaps "put away what had to be put away" is a better description, she commented on how no matter why or where we're entertaining in our home, it seems that people end up in the kitchen. Do you find that this happens in your home too?
Of course as the owner of one of the leading granite and marble counter top companies in Columbus, we have beautiful kitchen counter tops. We keep them well maintained and enjoy the warm tones that the pattern we have brings to this space. So, for us, the kitchen is another entertaining space that we're proud to show off. We know that for some people their kitchen counter top is plain, worn out or just came with the house but hasn't been updated although it has been considered. We work with homeowners every day who want to update their kitchen but aren't sure how to pick a color or pattern.
Granite Patterns and Your Kitchen
Granite is an igneous rock that is named so because it looks granular. However, when choosing a kitchen counter top pattern, you will find that nearly every slab looks different. The various patterns are generally named from the area they are mined and the pattern and color is fairly consistent, however, unlike man made materials, you can't select a pattern and know exactly what you're going to get. Most people want to see the options and choose the slab they want to get exactly the right pattern for them. Here are a few things to think about before heading into a showroom or warehouse to pick your pattern.
Consider your existing cabinet color and other décor – if you have light cabinets and want to keep the kitchen light, consider something like Bianco Romano. If you are looking to bring some contrast into your kitchen with light countertops, consider Typhoon Bordeaux with its warm hues.
Discuss pattern – Although each slab is going to be slightly different in its overall pattern, most granite can be described as either veined, like Bianco Romano mentioned previously, speckled like Exodus or a combination like River Bordeaux where some veining and some speckles appear together in a tight pattern.
Look at your kitchen layout – Although every granite slab is different, their dimensions are fairly consistent, about five feet deep and eight feet long. Depending upon your kitchen's layout and size, you may need more than one slab. When they are mined, they are shipped in order so that slabs that are consistent with one another go to the same supplier, they will still vary somewhat. You'll need to know in advance if you are ok with a pattern change in a space.
What is your budget – Because granite is shipped to the US from around the world, the cost per square foot can vary greatly. Once you are in a showroom and are discussing slab prices and have an idea of how many slabs your kitchen will require, you will know if any particular pattern is within your price range.
Granite countertops do go with National Championships, at least here in Columbus at Modlich Stoneworks. Congratulations to THE Ohio State Buckeyes football team on delivering a great win. And if you need some assistance when choosing your granite counter tops in Columbus, turn to the Modlich Stoneworks team, the leader of all granite counter top companies in Columbus and we'll be sure to deliver a great win for you.