Congratulations, you've picked your natural stone slab for your kitchen countertops and now it's time for us to get to work on cutting the slab or slabs. Have you wondered how we go about deciding the right way to make the cuts so that we can get the most out of your slab and so that your countertop has good flow?
When you were at our showroom and picked the actual slab that we'll be using for your project, we talked about how many slabs would be needed and cost. Let's assume for now that you're one of our customers who only needed one slab for their kitchen remodeling project. Our team has either come out to measure or spoken with your cabinet installer to obtain the exact measurements for your kitchen countertops. We've confirmed with you which countertop edge you want and if you want the standard 1.5" overhang. Our next step is to do a layout on the computer.
Most granite slabs are between nine and ten feed wide and five or six feet tall. We're going to use a slab that is 9.5' X 6' for this example. The first thing we examine in your plans is if any one piece is longer than the longest section of the granite. If so, we have to determine the most logical place to piece the granite together. For this example let's assume that no pieces are larger than the longest edge of our slab and that your countertops have this layout:
Refrigerator to stove with sink and a corner (84" from refrigerator to corner and to 60" from corner to stove)
Countertop to wall (24")
Island (36" X 30")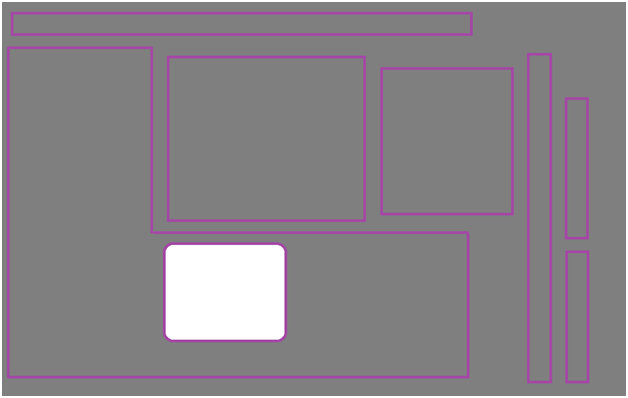 We'll assume that you chose a half bullnose finish for the edges which means we need to cut at 26" to provide for the counter depth and the overhang on everything except the island. Using a computer program we draw out the slab's size and select the type of countertop (corner, island, backsplash, edge etc.) and begin placing the pieces on the slab leaving room around each one for the cut. We also have to plan for backsplash if that were something you choose to have from the same slab as your granite countertops. Also remember that the edges of your slab are rough cut so we can't place the countertop on the very edge.
As you can see from the example above we can get all the pieces needed for your kitchen remodeling project out of this one slab. If you'd like to sit down with one of our designers as they plan how your granite slab will be cut, please let us know. If you're in the process of looking for new granite kitchen countertops for your Columbus area home, please visit our showroom at 2255 Harper Road or give us a call to schedule an appointment – 614-859-6596 and we'll be happy to help.