Picking your granite slab is just the first step in choosing your new countertop. Here are a few simple tips for selecting a countertop edge that fits your style.
Many of our clients come to Modlich Stoneworks for help in replacing their old laminate countertops with new granite countertops. Laminate countertops are very limited as far as how the edges can be finished so there aren't many options when trying to personalize your laminate kitchen counter. Natural stone, like marble and granite, however, has many more options for countertop edges.
Countertop Edge Options
We're going to break the options into two categories: Basic and Designer. The basic edges are also the most common for granite countertops in kitchens and bathrooms. The designer edges are more often in bars, offices and businesses.
Basic Options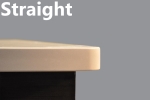 Straight – This countertop edge is most similar to what an edge on a laminate countertop was. It is essentially a right angle on both the top and bottom of the countertop.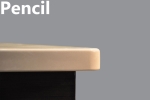 Pencil – This countertop edge has a barely visible rounded edge on the top and bottom but the sides are straight. This choice is a bit more forgiving over the straight edge if you bang your dishes against it.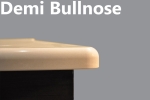 Demi Bullnose – The demi bullnose looks like a waterfall and it does act as a one when water runs over the edge. It is one of the most common and practical granite countertop edges.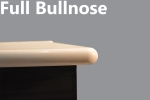 Full Bullnose – Similar to the demi except the rounded edge is on both the top and the bottom. This provides for a symmetrical look but it also makes the countertop look thinner.
Designer Options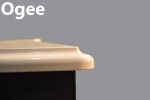 Ogee – This is a blend of a straight edge and demi bullnose. The top is cut straight down about ¼ of the thickness of the granite and then it is cut into a demi bullnose. It is a very popular for many upscale kitchens.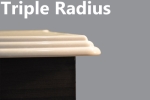 Triple Radius – This fun and modern finish can best be described as a cascading waterfall or as some people refer to it as a triple pencil. Each of the three layers is cut into a demi bullnose.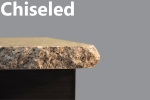 Chiseled – If the room you are adding granite or marble to can be described as rustic or ultra-modern, chiseled is a countertop finish that should be considered. It is exactly as it sounds as the edge is rough finished as if it came right out of the quarry.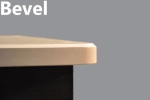 Beveled – Sometimes people describe this finish as a formal edge. It is cut at an angle for the first cut then straight down making the countertop appear to have three different surfaces, the top, the angle and the edge.
For help selecting your natural stone countertop edges, visit our countertop edge option page or  just ask any of the team members at Modlich Stoneworks. We're ready to help you with your countertop needs.  Just call (614) 859-6596 today to schedule an appointment or stop in our Columbus showroom at 2255 Harper Road. Either way, we look forward to hearing from you!