Offices and commercial spaces are increasingly turning to granite countertops, not just for their restrooms but also for their reception area, meeting rooms and even in many offices as desktop surfaces. Modlich Stoneworks, your leading Columbus granite fabricator, has been helping businesses throughout the area with upgrading their worn out wood desks, counters and conference tables for decades.
When a business owner first approaches us about natural stone for their office, the conversation goes in one of two directions, either they have had granite in their restrooms for some time and they want something similar for other spaces or more likely the idea has been presented but not good reasons for changing from wood or laminate. The two biggest reasons to choose granite for your workplace are durability and aesthetics.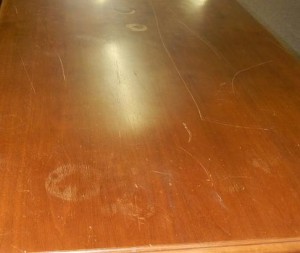 Many conference tables and other office pieces in common spaces traditionally have wood or laminate surfaces. Although wood can be beautiful it is not easy to maintain. If staff fails to use a drink coaster, water rings may appear. Too many hot laptops for too long on the table can harm the wood's finish or if your office has natural plants and they are ever over watered, wood or laminate tops, like the one pictured, can be destroyed. With granite countertops, these problems don't exist. When you properly maintain your granite (resealing it about once every year or two) it will look beautiful and last a lifetime without discoloration, staining, scratching or warping.
Another reason businesses often choose granite is aesthetics. Because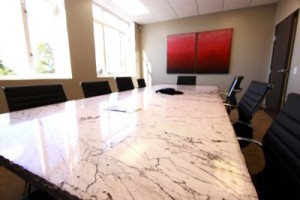 granite comes in many different colors and patterns, you can greatly enhance the look of your office. The warmth that the gold tones in slabs like the Normandy pattern bring to a space gives off a look of success and prosperity and what better subtle message would you like to send to your clients as they walk into your reception area? Is your company logo grey? Choose a pattern like Exodus or Forest Dunes to tie your reception area and logo together. Most granite is available in slabs of approximately nine by five feet giving you continuous clean lines on your credenzas, conference tables and desks.
If you'd like to learn more about granite or other natural stone in your office, contact Modlich Stoneworks, your local Columbus granite fabricator at 614-276-2848 and we can help you make the right decisions for your commercial space. If you have a unique commercial application you think might be a good fit for natural stone, we'll be happy to let you know how we can help.