Most cabinets, whether for you kitchen or bath, don't come with pulls or knobs, and choosing the right pull can be as difficult as choosing the new countertop. Here are a few tips that should help you narrow down the choice and pick the perfect hardware combination.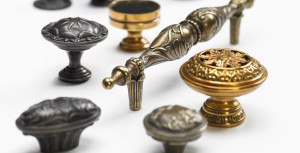 If you are starting with new cabinets and natural stone countertops, take a step back and determine the style you are looking to convey. Does your kitchen now have a contemporary look, European, or does follow a more traditional style? Once you determine the look you are trying to emulate, it's time to start looking at hardware and narrowing down between pulls and nobs or a combination of the two.
The next thing to think about is the colors of your cabinets and marble or granite countertops. Since they already complement each other, your hardware needs to work with both of those. The pulls should contrast against the cabinet but contain an element from somewhere else in your kitchen. Consider choosing a color in your natural stone countertops or something that compliments your sink or faucet.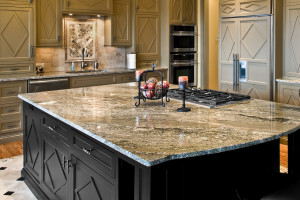 For contemporary looks, consider pulls with a sleek modern design. Many modern pulls are thin and tubular and made of stainless steel with a high shine for a finish. If your granite countertops have some silver flecks, consider a natural stainless finish. If your colors have more of a bronze or brown, consider pulls that have a high shine finish in one of those colors.
For a kitchen that is traditional, consider brushed nickel or polished brass. One benefit of the brushed nickel over the polished brass is that it doesn't need the type of regular maintenance that polished brass does. Always consider your household when choosing the finish, a homeowner with kids may not want a finish that requires regular polishing or cleaning.
European kitchens can be either modern or traditional and many designers recommend ceramic or glass as the different styles and colors can add the charm that homeowners look to emulate. If ceramic and glass aren't what you're looking for, try an oil rubbed bronze finish as the aged patina reflects the old world style.
The team at Modlich Stoneworks will happily provide some recommendations when you replace your countertops, just ask one of our design professionals when they are with you to provide you with some recommendations of where to start.