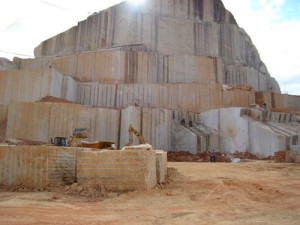 For as long as these types of records have been kept, Brazil has been the world leader for exporting natural stone; but can you imagine 1,100,000 metric tons of granite being shipped to the US in just one year?  Trust me, it's a lot.  Perhaps to make the amount a bit easier to comprehend, it would equal 2.5 billion pounds.  Still hard to grasp? Okay, the weight is roughly equal to 350,000 Cadillac Escalades! Like I said, it's a lot.  In fact 2014 recorded the largest amount of granite imported from any country ever in one year, and accounted for just over 50% of all granite imported into the US.  I'm still trying to get my head around what it would cost to keep all those Caddies fueled up!
With nearly 70% of the world's granite countertops coming from Brazil, it is often considered the granite capital of the world.  In addition to granite, Brazil also mines and exports quartzite and marble. And as the demand of homeowners worldwide for natural stone countertops continues to grow, so will their exports.
Early in Brazil's natural stone exporting days, they would simply cut a large stone and ship it to whichever country it was destined because the mines didn't have the technology nor enough workers with the expertise to properly cut the stone.  Today, Brazil has workers who are easily as skilled as those in Italy, and machinery that is equally excellent for cutting stone. Natural stone countertops from Brazil are now often less expensive because labor in Brazil is much less costly compared to Italy. With the modern technology and skilled workers of today, the natural stone slabs are cut and then shipped, allowing the imperfect pieces of a slab to be discarded rather than shipped. In addition, Brazil has perfected the art of natural stone tiles making for little waste and further keeping costs down.
Every country's granite is different due to the mineral make up. Granite is made up of feldspar, quartz and micas. The amount and the color of these base components, determines the color, pattern and even hardness of each particular type of granite. A mineral called feldspar is what primarily influences the color of and pattern of the slab. Some examples of the unique slabs from Brazil are the Cream Violet which is a purple and tan and Crepuscolo which is also known as Brazilian Sunset because of the orange and red hues.
As you work to decide where your new granite countertops should come from, be assured that if the pattern and color you select is from Brazil that it is finely cut by skilled craftsmen. If you need help with your kitchen or bathroom countertop selection, let one of our team members know and we'll be happy to help you pick the right slab for your taste and décor. Contact Modlich Stoneworks at (614) 859-6596 to schedule an appointment or stop by our showroom at 2255 Harper Rd. Columbus, Ohio.